Couples Retreat [Cancelled/Postponed]
As this time, we didn't reach the minimum viable number of participants, we have decided to cancel this workshop. Please write us if you are interested in participating in a later event.
This English* spoken workshop** is  about:
Using intimate relationships as an arena for growth for you and your partner
Bringing out the best in one another
Balancing qualities such as togetherness and individuality, spontaneity and self-discipline, honesty and empathy
*  Exercises can be in your native/preferred language.
**  Uses NVC, but NVC experience is not required.
Time & Date
10-12th of May 2019
Friday: 19:30-21:00.
Saturday: 10:00-17:00.
Sunday: 9.30-13:00.
Venue
Camping "Tussen hemel en aarde", Kanonsdijk 7, Groenekan
Practicalities
Overnight stays are possible in your own tent or, for a few early birds, in a small cabin. See camping site for more information. Price of the retreat does not include overnight stays nor food.
Price
We strive to keep this workshop affordable to all. The maximum price will be €150 p.p. (6 couples). The price will be discounted if we exceed our minimum number of couples (max. 10 couples).
A non- refundable deposit of €50 per couple to reserve your place is required upon registration. Please wait with full payment until you receive an invoice.
Price excludes cheap overnight stays and food.
For Registration or more information
Use Contact form below
Deadline: 5th of April 2019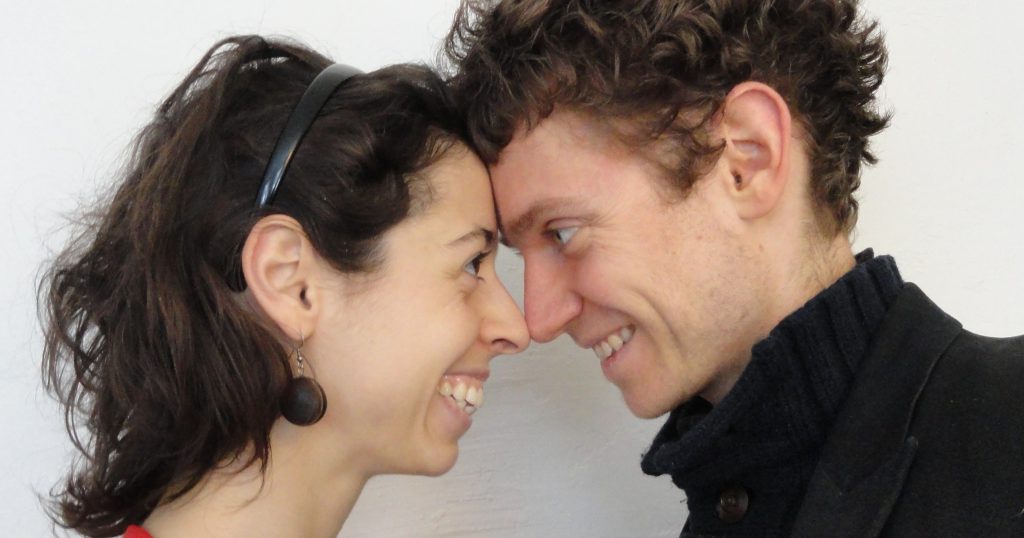 Growing through relationship
Our intimate relationship is often the place where we experience our strongest emotions – pleasurable as well as uncomfortable. Our partner might also be the best mirror we will ever get, helping us to discover our own blind spots. If we can keep our eyes and hearts open in the wonderful tornado called relationship, it can become a catalyst for growth and a source of interpersonal wisdom.
__________________
How will we work?
The workshop will be explorative, playful and thoughtful. We will engage the mind, heart and body. We will learn through a variety of media and approaches, including: discussions of illustrative film-clips; movement and dance; practical exercises; and narrative approaches. Alea and Mathias will also share their unpolished stories of the ups and downs from their own 17 years of relationship.
Language of instruction will be English.
What will you go home with?
It is the aim of the workshop that everyone leaves not only with new insight, but also with very concrete ideas and sense of direction regarding the next step on their relationship journey.
About the facilitators
Alea Moreno and Mathias Granum have practiced Nonviolent Communication (NVC) together for more than 16 years. They are trained as a doctor and a music therapist, respectively. Together they have started a school for playful learning where Mathias is now the headmaster. For the last 11 years of their relationship, they have engaged in tantric practices.