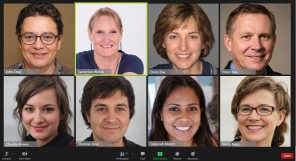 Nederlands: Online sociometrie is anders dan wanneer het live met elkaar gedaan wordt. De online versies bieden dezelfde veilige omgeving die nodig is om te leren en zich te ontwikkelen. Daarnaast biedt online verrassende voordelen die je in live sessies in een workshopruimte niet hebt. Zo vullen de online en live sessies elkaar mooi aan.
English: Online sociometry is different from live sessions in a room together. The online sessions offer the same safe environment required to learn and develop. On top of that online sessions offer unexpected advantages over the live sessions in a room. This way online and live sessions complement each other in a beautiful way.
Deutsch: Online Soziometrie ist nun eben anders als live zusammen in einem Raum. Die online workshops bieten die gleiche sichere Umgebung um zu lernen und sich zu entwickeln, wie live. Online bietet darüberhinaus vorteile die live sessions nicht bieten können. Somit ergänzen Online und Live Workshops einander.